Where's Your Data? The Scoop on SiteLink Server Load, Security and Uptime
Written by Sue Creaser on January 22, 2018 under SiteLink Reliability & Security Certification & PCI Certification

SiteLink Reliability - part 1 of 3
SiteLink is completely invested in ensuring that your data is safe and only as accessible as you allow it to be. You can rely on the fact that SiteLink's servers–the physical place where your data is stored–are configured and certified for the highest level of data security.
Highlights
SiteLink maintains PCI DSS Level 1 status – the highest level of software and server security certification available
Real-time status monitoring available online via SiteLink's status page

Outstanding uptime status
Response times available at-a-glance
Customers can subscribe to alerts and notifications

SiteLink servers are located in Tier 4 data centers – the highest data center rating available

2N fully redundant power delivery
Enterprise cloud logging
Exterior firewall protection
Threat management devices
Interior firewall protection
Database servers
Backups
PCI DSS Level 1 Certification
SiteLink takes data safety seriously and spares no expense to maintain PCI DSS Level I and SSAE 16 (SOC I) Type II certification – the highest standard of software and server security certification available. SiteLink also hires outside penetration test companies, subscribes to security services, continually assesses threat levels and updates security methods.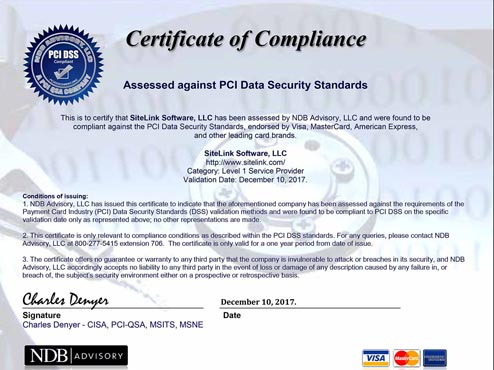 The Payment Card Industry (PCI) Data Security Standard (DSS) is an information security standard defined by the Payment Card Industry Security Standards Council. These standards cover all aspects of cardholder data in a system and include card data entry, processing and secure payment applications.
Each year SiteLink undergoes a rigorous PCI DSS Level 1 certification audit and independent 3rd party penetration tests. Leading brands such as American Express, Discover, MasterCard and Visa require PCI DSS for their data security compliance programs.
PCI DSS Level 1 Certification brings peace of mind to owners with the understanding that external auditors have certified the SiteLink suite of software products after the most stringent security audit.
Status Monitoring
Remarkably, SiteLink data center servers have been maintained without unscheduled downtime since Web Edition's debut in April 2006.
Uptime status. Customers can be confident that their data is accessible nearly 24/7. Occasionally, situations outside of SiteLink's control arise that may impact services, such as regional outages or ISP routing issues. When these do occur, it's easy for a customer to quickly check the SiteLink status webpage to see if any problems have been reported in their area and when it will be resolved. Customers can also subscribe to convenient, customizable status page updates to instantly be notified of any or all alerts.

The screenshot below is an example of the SiteLink status page where all services are listed as operational.

Response times. The status page also includes visual representations of SiteLink server response times - which is the amount of time it takes for a web server to respond to a request from a client. Response times for SiteLink Logon Web Service, Transaction Web Service, Transaction API, Reporting API, myHub and Web Template are all shown on the SiteLink status page. Examples are shown below:
Tier 4 Data Center
The SiteLink servers are located in Tier 4 data centers - the highest data center rating available.Tier 4 data centers provide 99.995% uptime per year along with 2N+1 fully redundant infrastructure (the main difference between tier 3 and tier 4 data centers), 96 hour power outage protection and 26.3 minutes of annual downtime.
SiteLink utilizes a global leader for its Web Application Firewall (WAF), Content Delivery Network (CDN), Distributed Denial of Service Protection (DDoS) and Load Balancing Provider. All SiteLink traffic must pass through this provider and be inspected before being allowed to be redirected to the SiteLink infrastructure. Additional features include 9 Internet Service Providers; ITAR, EU-US Privacy, SOC 1, SOC 2, HIPAA, GLBA and PCI Colocation; and a hurricane-proof and ballistics-resistant building.
2N fully redundant power delivery. Each component in a Tier 4 data center is redundant all the way to the utility power. Each piece of SiteLink equipment plugs into two separate power distribution Units (PDUs) which then connect to separate power panels. The power panels connect to separate uninterruptible power supplies (UPSs) which then connect to separate automatic transfer switches. These connect to separate generators and utility power substations.

Enterprise cloud logging. Every action in the SiteLink infrastructure is logged in real time to our enterprise cloud logging provider, indexed and evaluated for threats. All logs are retained for a minimum 365 days. This includes every networking connection in/out of the cabinet, server access, configuration change, etc.
Exterior firewall protection. The exterior level firewalls evaluate all traffic entering or leaving the SiteLink cabinet and blocks all traffic that doesn't pass inspection.
Threat management devices. The threat management devices inspect every piece of data that enters or leaves the SiteLink infrastructure in realtime to determine if the data is safe or not. This is monitored 24/7 by an external security provider. These devices can immediately stop a threat as soon as it's detected and prevent any malicious content into the environment and prevent any secured data from being taken.
Interior firewall protection. The interior level firewalls evaluate all traffic between the Web Servers and the Database Servers. Only secured traffic that originates from our secured web servers is allowed to access data in the SiteLink databases.
Database servers. The database servers host their databases on fully redundant solid-state hard drive arrays.
Backups. SiteLink's impressive backup systems begin with the following:

SiteLink Customer PC
SiteLink Database Server
Redundant solid-state hard drive arrays (replicate between arrays every 5 minutes)
Log shipping server (replicate every 10 minutes)
Fully encrypted SQL database backups

Backup Server
Historical hard-drive array (60 days of full SQL backups)
Amazon S3 (full SQL backups kept in perpetuity)
Restoring your data on any computer after a crash or accessing data from any PC or mobile device only requires Internet access and your SiteLink login credentials.
Data Confidence
SiteLink sets the gold standard for data security in self-storage: critical data is encrypted and only transmitted through secure channels, snapshots of all data are taken and stored every 5 minutes, and backups are stored in multiple locations–on and off-site. You can rely on SiteLink to keep your data secure, and with this peace of mind you can focus on running your self-storage business.
Read the other articles in our SiteLink Reliability series: Customer Support is Job #1 – SiteLink Answers Your Calls and Awards, Reviews and our Focus on Customer Success.
Related SiteLink News
Check out other SiteLink news articles related to Where's Your Data? The Scoop on SiteLink Server Load, Security and Uptime.
SiteLink PCI DSS Level 1 Security Recertification
SiteLink achieves another year of PCI DSS Level 1 Security Certification and continues to ensure software users a secure and consistent experience when using SiteLink self-storage software.

SiteLink Awarded ISS Best Management Software 2015
For the fifth year in a row, SiteLink is awarded Best of Business in the category of Best Management Software by Inside Self-Storage. SiteLink is especially honored to receive this award because the online voting allows actual storage operators to select their favorite company as the best in business.
Filter SiteLink News
Search news by category tags and find the information most important to you.
Sign Up For Notifications
Register to be notified by a variety of SiteLink and Industry emails and announcements.
Manage Email Preferences
Top SiteLink News Posts
StorageForum is here! Designed as a place to ask questions, share knowledge and talk about SiteLink ...
SiteLink marks a new milestone with the rapid adoption of its free, built-in eFile Management now st...
Mini-Storage Messenger announced their 2016 Facility of the Year Award winners and two of the five w...