Self-Storage Management Software Made Easy
As the industry continues to evolve, SiteLink brings you the right tools using today's technology. We listen to our customers' suggestions to enhance and add features. SiteLink users enjoy the collective experience of more than 15,000 operators. We exceed the strict SSAE 16 (SOC 1) Type II and PCI Level 1 Certifications to deliver peace of mind. SiteLink is cloud-based so you can do business from anywhere. SiteLink lets owners build the best websites so tenants can pay, reserve and rent online, 24/7 on any device.


SiteLink Web Reports
Access real-time reports on any computer, smartphone or tablet. View, print and email single or consolidated reports in Excel, PDF and text format.

SiteLink Marketplace & API
Choose the right partner for services like call centers, web design or online marketing. Let them access real-time data using the SiteLink API.

Enterprise-Level Controls
Manage multiple stores with the Corporate Control Center. Manage your portfolio using dashboards and ranking. Standardize settings and letters for multiple stores.

SiteLink eSign™
At no additional cost to you, SiteLink eSign captures electronic signatures and stores leases, insurance forms and other documents. Stay in control using industry-first lease audit tools.
Choose From Two Self-Storage Industry-Leading Offerings
Select the SiteLink self-storage software for your operations. Integrated SiteLink Merchant Services,
the fastest-growing payments solution, helps your tenants pay faster and cut costs.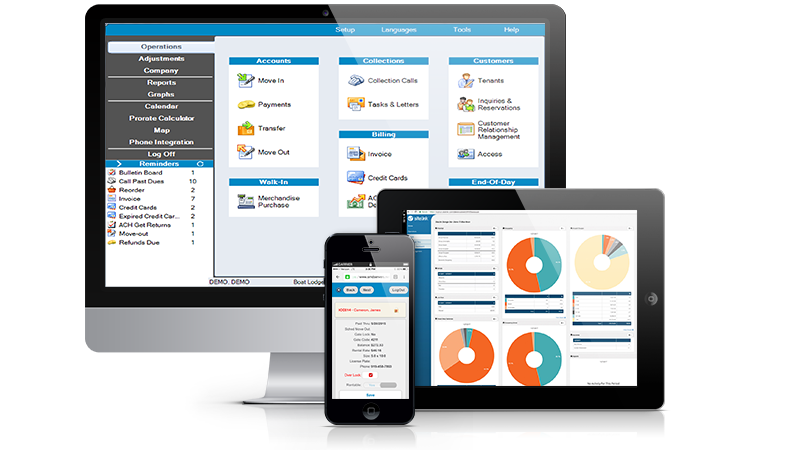 SiteLink Web Edition
SiteLink Web Edition is the preferred choice for single-store and multi-store operators. The most widely used, turnkey software solution includes everything you need to operate your self-storage business.
245,000,000+
Payments Processed
3,100,000+
eDocuments Sent
Trusted By The World's Best
From nationally-recognized brands to well-run local facilities,
SiteLink is the self-storage software you know and love.
Hear what our customers are saying. Check out SiteLink testimonies and success stories.
We are new users to SiteLink and we recently opened our storage business. The software is powerful and easy to use. The experience with the SiteLink customer support desk has been great. The support staff are very knowledgeable and friendly. Several times they have connected to our system and answered our questions by showing how its done. We evaluated several software vendors in our selection process and are very pleased we made the right decision to go with SiteLink.

Ray Chesher, Owner at HeyRay Self Storage
SiteLink has been a blessing from day one, everyone from software sales to merchant services has been incredible. The tech staff spent a couple hours just helping me get the demo installed on my computer before I had spent one dime with them, really shows a level of commitment when I had not even paid for anything yet. We are one month in with our new facility and SiteLink has been an ease and techs are just one phone call again. I would highly recommend to any other operators of any size. Andrew Vayhinger, Owner at Corner Storage

Best Management Software 8 Years Running
For the past 8 years, SiteLink has won the Inside Self-Storage
Best of Business Award for "Best Management Software."
View 2018 Award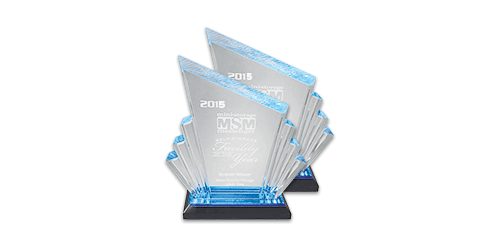 Most MSM Facility of The Year Award Winners
Since 2004 SiteLink customers represent more than half of all
Mini-Storage Messenger Facility of the Year winners.
View 2017 Winners
Future Proof
While serving storage owners for nearly 20 years, we have witnessed other self-storage software vendors come and go. At SiteLink, we focus on faithful service and continuous improvements so you can grow your business. More than 15,000 SiteLink stores never need worry about shopping for new software.
Quality Development And Support
Our team of more than 70 programmers, sales and customer support members all work under one roof with one goal: provide the best self-storage software. We invest heavily in personnel, training and technology to respond to your calls and deploy updates regularly. We love it when customers notice how we turn their suggestions into a new features in a few week's time.
Scalability
SiteLink grows with you and does not require you to buy servers or a network. SiteLink always runs fast, regardless of the time of day or the number of your systems. We invest technology so you don't have to.
Flexibility
Built-in editing tools allow you to create and change your map, HTML emails, letters, notices and leases. Multi-store operators automate and deploy (clone) changes for multiple stores in a single step using the Corporate Control Center. Custom print options, HTML letters and text messaging help convert leads to rentals and keep customers happy.