SiteLink Announces Annual PCI DSS Level 1 Recertification
Written by Sue Creaser on January 15, 2018 under PCI Certification & Security Certification

Top compliance rating for server security and payment card data protection continues
SiteLink, the global leader in cloud-based software and payment processing for self-storage operations of all sizes, completed its recertification as a Payment Card Industry-Data Security Standard (PCI DSS) Level 1 Service Provider following a detailed audit to ensure credit card data is stored, processed and transmitted in a secure and protected manner. Level 1 designates PCI's highest standard of software and server security certification.
"We are very pleased and proud to maintain the Level 1 certification," said Ross Lampe, SiteLink's President, "It's good business to keep up with the latest, most stringent security standards available and offer that to our customers, who are our top priority."
The Payment Card Industry (PCI) Data Security Standard (DSS) is an information security standard defined by the Payment Card Industry Security Standards Council. These standards cover all aspects of cardholder data in a system and include card data entry, processing and secure payment applications.
Throughout the year, SiteLink passes comprehensive audits including document collection and analysis, vulnerability scanning, penetration testing and regular scans.
Highest Level of Certification
PCI certifications are not uncommon, but only few businesses, such as Amazon, pass the highest certification, Level 1. Leading brands such as American Express, Discover, MasterCard and Visa require PCI DSS for their data security compliance programs.
Credit Card Security Top Priority
Credit card fraud affects millions of consumers worldwide. When a breach occurs, customers lose trust in merchants with profound and lasting negative effects on a business.
SiteLink's PCI DSS Level 1 Certification is critical to protect owners' businesses.
"At SiteLink we take credit card security seriously," said Luke Lenzen, SiteLink's Chief Technology Officer. "As the first step toward safeguarding our customers' data, we comply with PCI guidelines and attain the highest certification available year after year. The Level 1 certification is no small task, but we are happy to do it. Data encryption and weekly penetration testing are focal points of our security strategy."
PCI Certified Software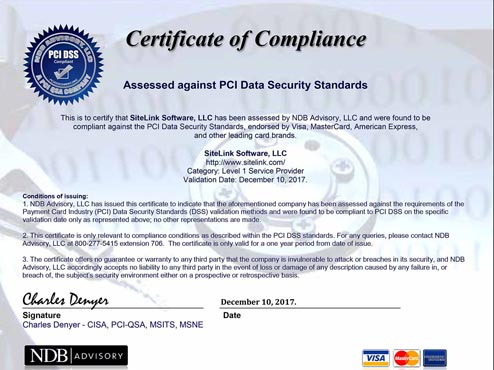 The PCI DSS Level 1 Certification delivers peace of mind to owners because external auditors have certified SiteLink's software products in the most stringent security audit.
Self-storage owners should ask their management software provider for their security level certificate and their process of safeguarding data.
Software companies can claim PCI compliance without undergoing third-party audits under the PCI Council jurisdiction. To protect their interest, owners should check their software provider's actual PCI Certificate validating audit completion and proper network security standards.
SiteLink Announces Annual PCI DSS Level 1 Recertification Comments
Share your thoughts and comments about the SiteLink news article, SiteLink Announces Annual PCI DSS Level 1 Recertification, we look forward to the conversation.
Related SiteLink News
Check out other SiteLink news articles related to SiteLink Announces Annual PCI DSS Level 1 Recertification.

SiteLink Users Process Record Online Rentals, Reservations and Payments
SiteLink, the global leader in web based software for managing self-storage operations of all sizes, reports a record number of its clients processing rentals and reservations on websites and from call centers.

Experience The Redesigned SiteLink Website
In order to offer a better SiteLink website experience, sitelink.com's architecture was rebuilt from the ground up. Experience enhanced navigation, a site-wide search, page filtering, added content, more engagement and a lightning fast design.
Filter SiteLink News
Search news by category tags and find the information most important to you.
Sign Up For Notifications
Register to be notified by a variety of SiteLink and Industry emails and announcements.
Manage Email Preferences
Top SiteLink News Posts
StorageForum is here! Designed as a place to ask questions, share knowledge and talk about SiteLink ...
SiteLink marks a new milestone with the rapid adoption of its free, built-in eFile Management now st...
Mini-Storage Messenger announced their 2016 Facility of the Year Award winners and two of the five w...