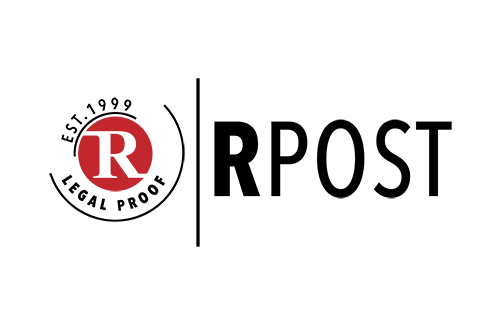 RPost
The global leader in secure and certified electronic communications, RPost has helped businesses enhance their security, compliance, and productivity for more than a decade.
RPost is the creator of the patented Registered Email™ technology, which provides email senders with Legal Proof® evidence of delivery, time of delivery, and exact message content in the form of a Registered Receipt™ email record. Since inventing Registered Email technology in 2000, RPost has successfully commercialized software platforms to track, prove, e-sign, and encrypt, used by more than 25 million people throughout the world.
How RPost Works With SiteLink
RPost's Registered Email™ service makes perfect sense for self-storage operators looking to cut mailing costs and reduce turnaround time on lien auctions and other business processes. Integrated right into SiteLink, the Registered Email service allows self-storage operators to legally deliver tenants rate changes, invoices and lien notices* by email, saving 75% or more on almost every notification. Senders receive back a Legal Proof® record their email was delivered and opened for easy verification.
Contact RPost
Visit The RPost Website
Share Your Thoughts About RPost
Ever used RPost or have a question for someone who has? Please leave a comment or thought below.
Other SiteLink Marketplace Integrations
Check out other SiteLink Marketplace integrations and learn how they can bring more efficiency and control to your self-storage facility.
Contact RPost
Reach out to RPost and express your interest in their integration with SiteLink.
Sign Up For Notifications
Register to be notified by a variety of SiteLink and Industry emails and announcements.
Manage Email Preferences