SiteLink Under 250 Units Bundle
Cloud-Based Self-Storage Management Software
Do you operate stores with fewer than 250 units? This bundle includes the full power of SiteLink at a fraction of the cost and is complete with a website where your customers can pay and reserve self-storage units online.
Request More Info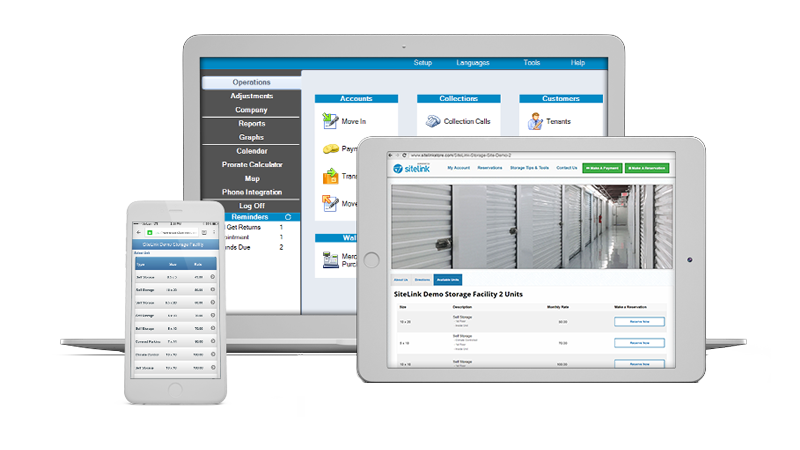 SiteLink Under 250 Units Bundle Overview
SiteLink Under 250 Units eCommerce Bundle is a cloud-based, turnkey self-storage solution that includes an eCommerce website, the full version of SiteLink Web Edition, SiteLink eSign™ and SiteLink myHub. Ready to go out of the box, this SiteLink special is the ideal solution for single-store operators.
Let your tenants pay and reserve on your free eCommerce website. We even include domain name registration and redirect to your SiteLinkStore.
Let Us Guide The Way
Fully supported with 7 day per week support and access to hundreds of online educational opportunities. This bundle also includes ongoing technical consultation.
End-To-End Self-Storage Solution
From capturing leads, to automating payments, from offering online specials to post move out surveys, everything you need to manage your facility is included.
Recognized Industry Leaders
SiteLink wins the best software award year after year. More than 14,000 stores choose SiteLink over the others.
Top SiteLink Under 250 Units Bundle Features
Discover the features that make this eCommerce bundle
the best option for facilities under 250 units.
SiteLinkStore Free eCommerce Website
Your customers expect to pay and manage their accounts online. Business owners want to collect faster, automate and rent more. SiteLinkStore is a website that seamlessly works with your SiteLink database to provide real-time payments, pricing and reservations.
Financial Integrations
Cut the time you spend reconciling and make better decisions with more tailored integrations with QuickBooks, PeachTree and other accounting programs. Operators using the best financial tools and reports profit more.
Run Your Business From Anywhere
Enjoy an unlimited number of installs, users and locations. Run the cloud-based SiteLink Web Edition and access your data from any device with the new SiteLink myHub.
OneSupport
We offer customer support for software, credit card processing and ACH/EFT bank drafts because they go together. SiteLink is the only company to service both management software and payment processing under one roof.
Credit Card Processing
Join thousands of operators who offer credit card and ACH/EFT bank draft processing on their website. Automatically process credit cards and take check payments for tenants with SiteLink's integrated solutions.
SiteLink eSign™
At no added cost to you, capture electronic signatures on leases, letters and forms with SiteLink eSign™. Start using the industry's fastest-growing, hassle-free way to sign more agreements faster at stores, on your website and even by phone. Audit leases from anywhere and cut the cost of filing and storing paper documents.
SiteLink Web Edition Features
SiteLink Web Edition is a cloud-based turnkey self-storage management software solution that includes everything you need to operate your self-storage business. SiteLink Web Edition is the preferred choice for single-store and multi-store operators alike. More owners entrust their operation to SiteLink than any other software.
View SiteLink Web Edition Features
SiteLink Web Edition Customer Testimonials
SiteLink customers love our self-storage management software. For six years straight,
we have been voted ISS Best Management Software by our peers and customers.