SiteLink Web Edition
Cloud-Based Self-Storage Management Software
SiteLink Web Edition is the preferred choice for single-store and multi-store operators. The most widely used, turnkey software solution includes everything you need to operate your self-storage business including a free eCommerce website.
Corporate Control Center for managing multiple facilities
SiteLink API for custom web interfaces
SiteLink eSign™ digital leasing
Request Full Version Demo Software of SiteLink Web Edition
SiteLink Web Edition
More than just a single program, SiteLink Web Edition is a complete solution that comprises website integration, anywhere anytime availability, third-party partner integrations, multi-store management, best-in-class accounting and a complete toolbox of features. If you are looking for a turnkey solution for your self-storage business, look no further than SiteLink Web Edition.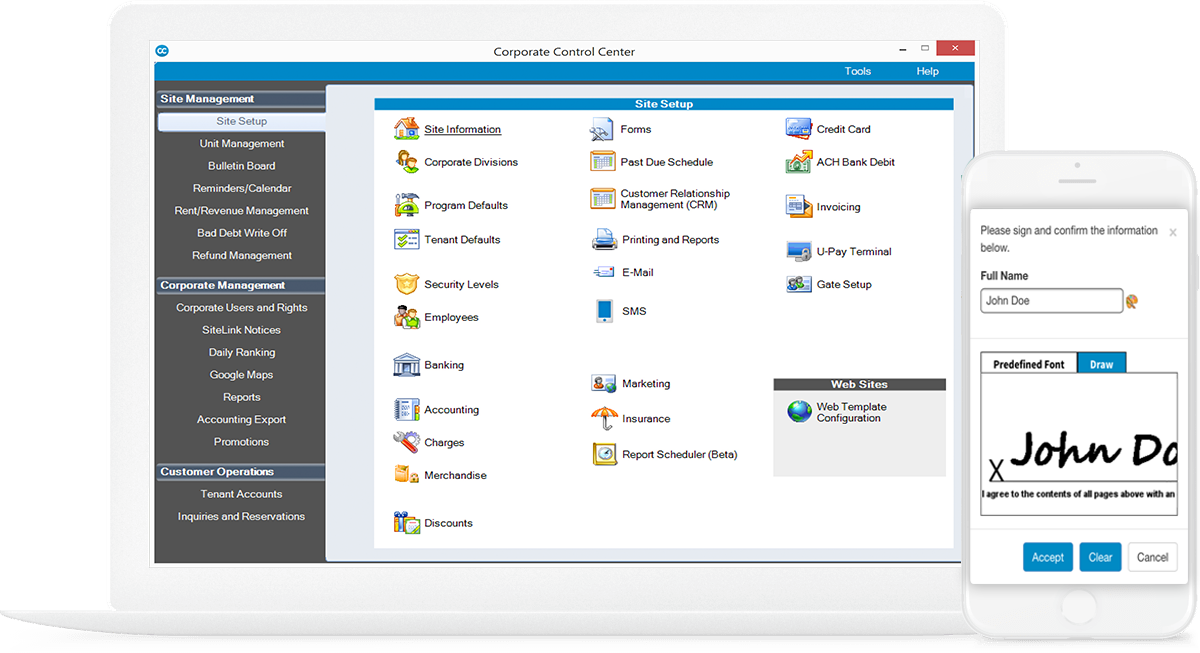 The Best Features All Packed Into One Platform
Reason Why You Should Choose SiteLink Web Edition
Flexible Platform
SiteLink offers many ways to run your facility. Cash or accrual reporting, online rentals and many more options
Future Proof
Our team of more than 60 all work under one roof and have one goal: provide the best software for self-storage
Award-Winning Software
Year after year, self-storage operators around the globe vote for SiteLink as the industry's best management software
Technology Partners
SiteLink works with best-in-class technology partners allowing owners the freedom to choose the richest, full-featured experience for their tenants
Data Confidence
Our software is reliable and always fast so you can focus on reservations, rental and revenue
User-Friendly
We worked hard to make software look this easy. The secret: continuous development and listening to our customers
Trusted by Thousands
More than 15,000 customers love SiteLink. For seven years straight,
SiteLink has been voted ISS Best Management Software by our peers and customers.
I cannot say enough good things about SiteLink customer support! The technicians are unparalleled. I have never spoken to anyone who didn't know every single thing about the software. Every little question I have they totally answer and totally fix the problem for me by talking me through it or by taking control of the computer to show me how. They are all highly professional, very polite, and go above and beyond to answer all of my questions.

Sandy Stevens, Manager at American Mini Storage, LLC - NC
Love the web-based software - easy to use. Tech support is great, I take comfort in knowing I just have to pick up the phone. Olivia said I'd love it - just go at it a little at a time. That has worked well. Thank you Olivia.

Christine Larkin, Manager at L & D Self Storage
We are new users to SiteLink and we recently opened our storage business. The software is powerful and easy to use. The experience with the SiteLink customer support desk has been great. The support staff are very knowledgeable and friendly. Several times they have connected to our system and answered our questions by showing how its done. We evaluated several software vendors in our selection process and are very pleased we made the right decision to go with SiteLink.

Ray Chesher, Owner at HeyRay Self Storage
Scroll